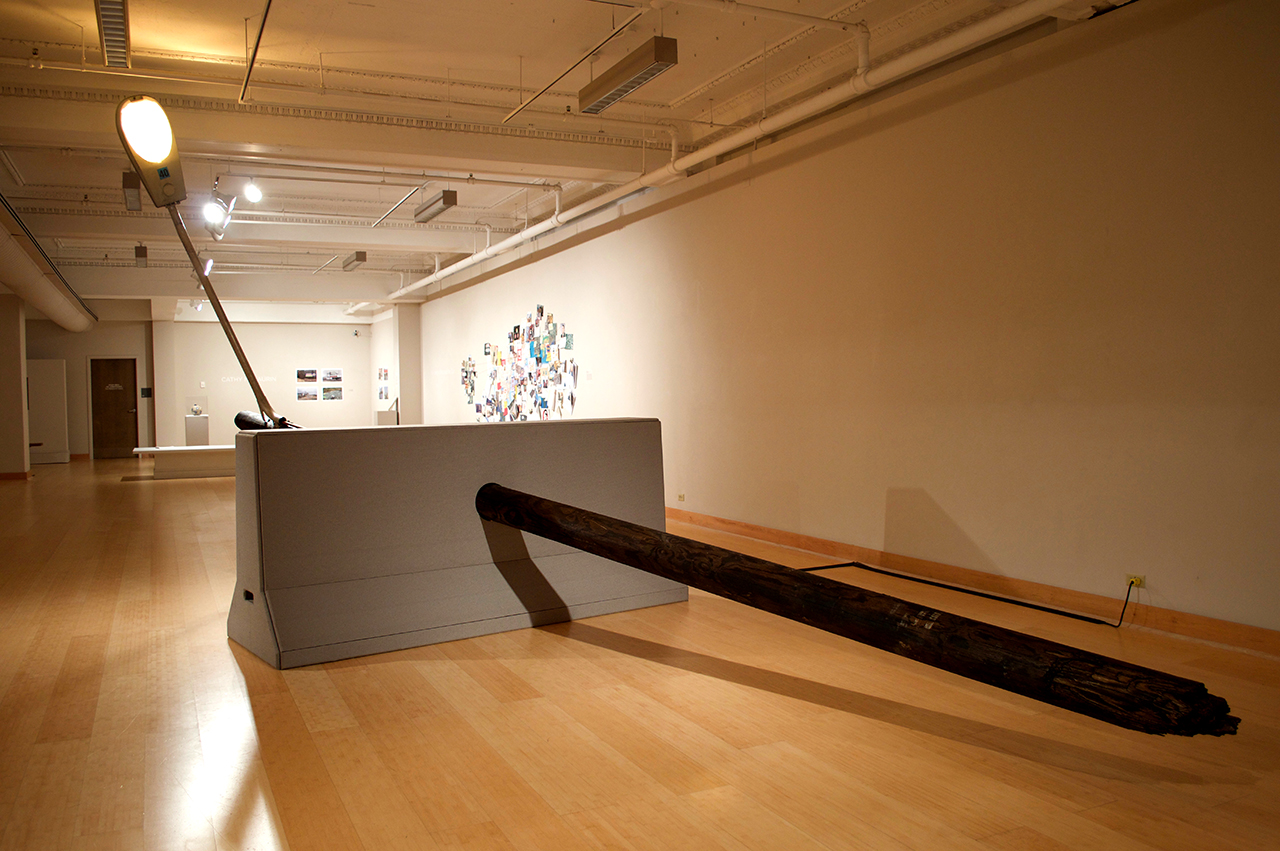 Reign Rebuilder, 2019
Pine light pole, street light, lumber, and fabric.
10.5' x 8' x 24'
Reign Rebuilder was 1 of 5 sculptures exhibited in 'Brain Janitor' at Greenhill in Greensboro, North Carolina in winter 2019.
Reign Rebuilder consists of a life sized street light balancing inside a jersey barrier constructed of plywood and fabric. The work proposes blended images in an otherworldly fashion seemingly made or grown this way as opposed to piercing through or a result of a collision of sorts. From afar the barrier reads as it typically does as being made from cast concrete but upon inspection, the soft fabric surface reveals itself. This notion presents a contrast in public and private space using an industrial form made from domestic, almost furniture-like materials. The title comes from a 2001 concept album called 'Sings Reign Rebuilder' by Canadian band Set Fire to Flames - which was recorded in an nearly condemned century old house. From the liner notes: ""your bulldozers and wrecking ball can make match-sticks out of the rickety staircase and crookt/creaking floorboards---but they can't erase the recording that was made here." As such, several sounds usually edited out of the recording process, including creaking floors, paper shuffling and outside noises, were left intact on the final album". Like rest of the work in "Brain Janitor", this work looks back at my childhood in an abstraction. The nearly 300 year old farm house house I grew up in has always been a container for images and memories - which often blend together in my thoughts.
Brain Janitor is a sculpture exhibition by artist Dane Winkler. It features large scale works constructed of various materials including a braided rug, papier-mâché, fabricated steel, and a hollow mattress. The works have developed out of Winkler's vocabulary utilizing concepts and materials reminiscent of a farmyard landscape. Often times the sculptures provoke a sense of poetry harkening back to his roots related to homesteading and ones most basic needs. The sculptures characterize a mysterious familiarity to function - be it otherworldly or local. In Brain Janitor the materials elicit a more private intention as Winkler begins to explore manipulated recognizable objects alongside crafted components - What conversation develops when a used mattress inflates and deflates like an organ? By reconsidering these forms through transformations their impressions are modified. How can objects become alive in their gesture or action? These substances are taken out of context compared with more inscrutable forms that hint at function or motion, yet suggest a frozen instance of time. The work relates to the body in various ways ranging from their personal history as a cradle for the body, to an abstraction that empathizes with absence, or the miracle of birth and death. The Proposed Brain Janitor is the keeper of these sentiments. It organizes these images and memories when appropriate, and makes mistakes all the same.